Artist. Designer. Instructor.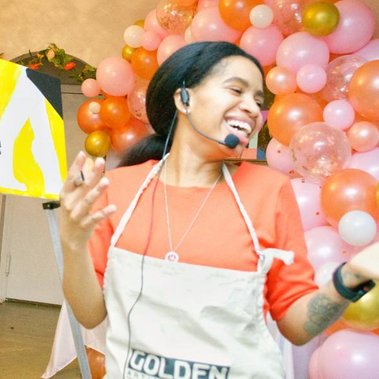 Meet Sky ...the Brooklyn native artpreneur and owner of StudioSkyh and 'Sky's the Limit' Paint Party.
As your instructor, Sky brings the paint and party to you, leading live painting sessions right in the comfort of your space! Since 2015, Sky has traveled across NYC and beyond, guiding clients through their one-of-a-kind paintings while having FUN.
With a background in Graphic Design and hobby in photography, Sky is regularly immersed in the arts alongside being a SAHM with her "son"shine who happens to love art as well.

Follow Sky's creative journey on Instagram via @studioskyh.

Need a custom art piece for your home or workplace? Personalized logo for your business? Let me know! Use my contact form or email me at studioskyh@gmail.com. I look forward to networking with you.
If interested in a paint party, please use the inquiry form under the "Services" page.